Christmas at Knights

Christmas at Knights is an especially important time for us, not only is there a lot going on at both centres, we cherish the interaction with our customers and enjoy the warmth of spirit unique to this time of year.
The Christmas departments at both Nags Hall and Betchworth are open – you're in for a visual treat! With 1000's of decorations on display, amazing lights and some beautiful gifts there is something for everyone. Come and be inspired!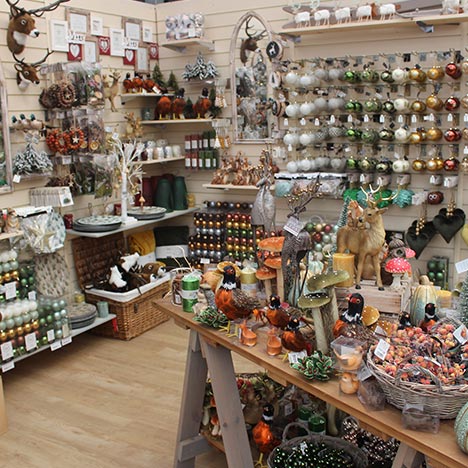 There are baubles galore in our decorations department in beautiful shades of red, green, gold, blue, bronze, silver and white. There are plain ones, sparkly glistening ones and heart shaped ones. There are stars, woodland creatures, pine cones and jingle bells.
And if that was not enough to decorate your tree then we have beads and bows, ribbon and picks galore.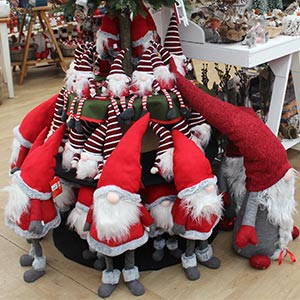 There is also a large selection of lights in a range of sizes and colours, some with plugs and some battery operated. Make sure you check your lights at home early - don't leave it to the last minute to suddenly find out that you need a new set and then be disappointed if we have sold out!
We also have a lovely range of table wear including table runners and napkins and there are candles, toys, stockings, pretty light-up houses, lanterns, and much more!!!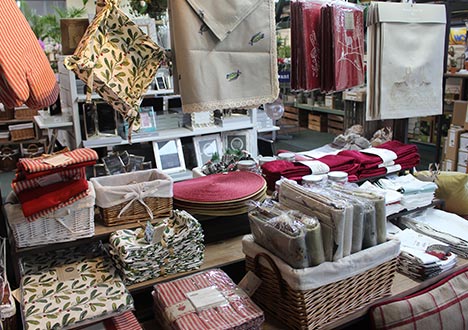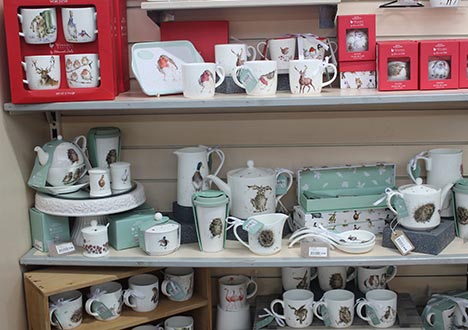 At our Nags Hall Centre we have a lovely range of Royal Worcester China and Portmerion China which make lovely gifts..
Pets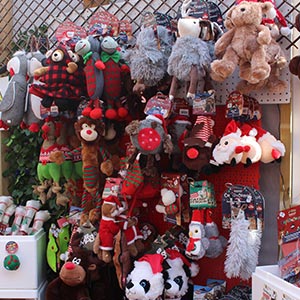 Don't forget your pets this Christmas. Our Pet Barn at Nags Hall and Betchworth can cater for all your pets, including horses! We have the full range of bedding and food for your pets, but also, we have a lovely festive range of toys, stockings, treats, christmas crackers, calendars, jumpers and scarves.
And our Aquatics Centre at Nags Hall, only, will take care of all your fish requirements.
Plants and Flowers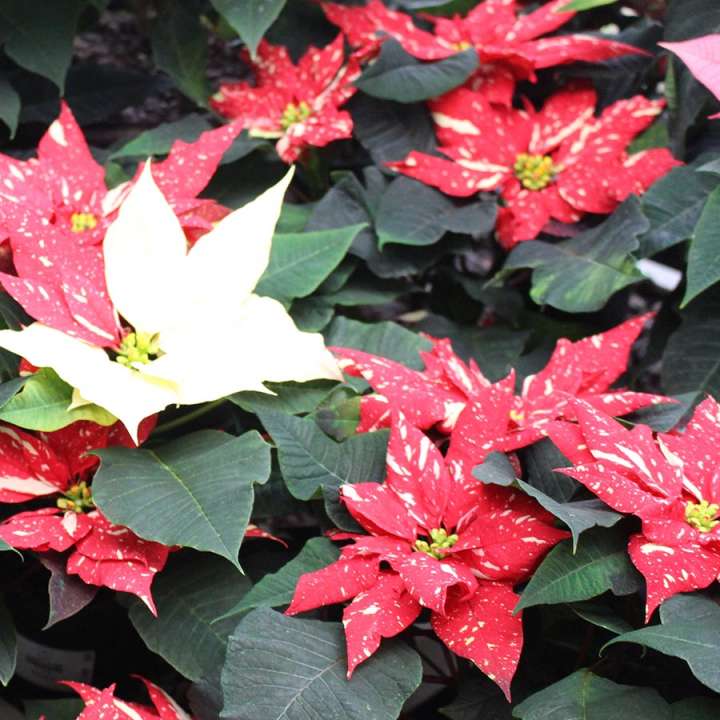 The house would not be complete at Christmas time without a gorgeous plant. Traditionally it has to be a Poinsettia and there are so many different shades of red, pink and white to choose from, why would you choose anything else. However there is an array of other choices, from delicate Cyclamen, beautifully fragrant Paperwhites to sensual Orchids. If you fancy trying something different why not grow an Amaryllis, the perfect DIY present or try a trendy Christmas Cactus.
The front doorstep should'nt be forgotten either. We have a huge array of planted tubs and baskets to decorate your porch including our beautiful planted small conical Picea arrangement in a classy wooden tub, which includes some battery operated lights to make it really festive.
Fresh flowers make a beautiful centre piece at Christmas. Visit our florist shop at Betchworth to add that final touch of class to your house.
Real Christmas Trees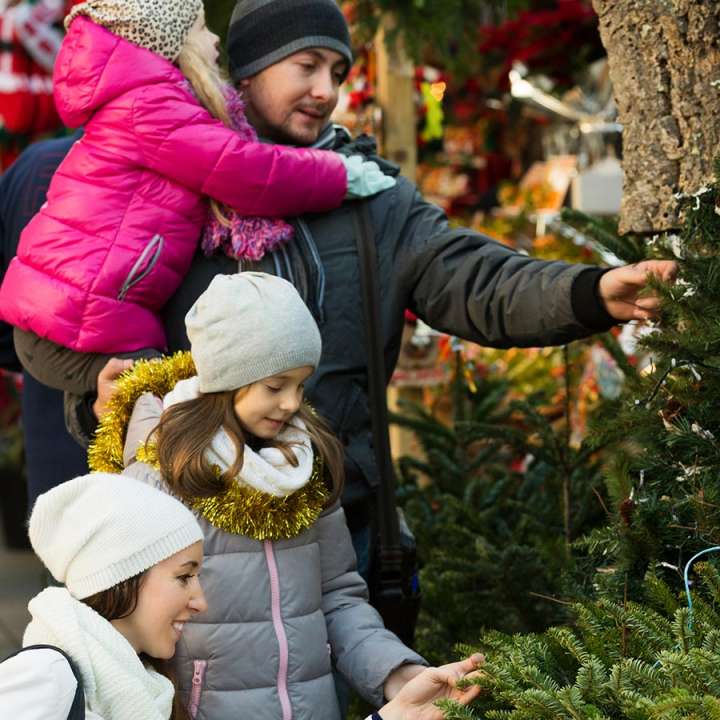 Real Christmas trees are are real passion of ours and have been for generations. We take their acquisition to a new level! Our trees are from sustainable sources and are quality checked for shape, health, colour and form. No Christmas tree is alike, they all have their quirks and endearing qualities so when a customer discovers the perfect tree for their family, we enjoy seeing the youngsters (or young at heart) welcoming the new temporary family member. We're proud to have we've been supplying Christmas trees to the same local families for generations and we love beginning new chapters each year with new people. All are welcome at Knights, please feel free to come along, meet the trees and chat with our experts on care, decorating and getting the most from your tree.
We have real Christmas trees to suit all pockets and all sizes of rooms. A real Christmas tree makes the perfect centre piece to the home adding vibrant nature beauty and a wonderful scent. Choose from:
the ever popular Nordman Fir
the narrower Fraser Fir which is becoming more popular.
the Noble Fir which has less branches, is more tiered with a better shape and scent than some of the others.
The trees will be in-store from 27th November.
Nordman Fir
120-150cm = £25
150-180cm = £35 (some slim shapes available)
175-200cm = £50 (Betchworth only)
180-210cm = £50 (some slim shapes available)
200-225cm = £65 (Betchworth only)
210-240cm = £65 (some slim shapes available)
240-270cm = £100
250-300cm = £125 (Betchworth only)
300-350cm = £250 (Betchworth have a few up to 360cm for £200)
420-480cm available at Betchworth only (phone the centre for the price)
Noble Fir
180-210cm = £60 (Nags Hall only)
210-240cm = £80 (Nags Hall only)
Fraser Fir
175-200cm = £50 (Betchworth Only)
180-210cm = £55 (Nags Hall only)
200-225cm = £65 (Betchworth only)
210-240cm = £75 (Nags Hall only)
There are 4 varieties of Pot grown trees too at Nags Hall.
Blue Spruce and Serbian Spruce = £45
Noble Fir and Nordman Fir = £65
And don't forget that all important tree stand. We have a range to choose from.
We also stock an extensive range of artificial Christmas trees.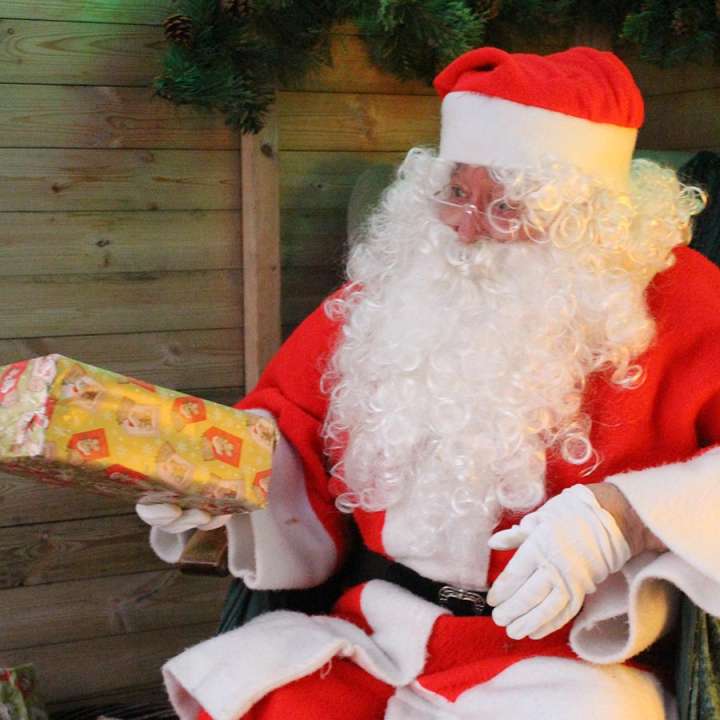 Santa's Grotto
How about the little ones meeting Santa at a visit to his grotto at Knights Nags Hall. He's given us each weekend in December out of his busy schedule! So don't miss out.
Saturdays from 10am - 4pm (November 30th, December 7th, 14th & 21st)
Sundays from 10am - 3pm (December 1st, 8th, 15th & 22nd)
Price £7.50
Breakfast with Santa
What about booking breakfast in our Walled Garden Restaurant with Santa.
Saturday, December 7th
9am - 10am
£10 per person
Booking is essential to avoid disappointment. Please call 01883 742275 or email walledgarden@knights-centres.co.uk