Potatoes

Seed Potatoes now in stock!
The Nation's favourite vegetable; From melt in the mouth new potatoes and bite-sized salad varieties to the fluffy bakers and roasters, we all love the humble potato.
There are a huge number of exciting varieties you can try that you'll never see in the shops. They are wonderfully versatile and different varieties excel for chipping, boiling, mashing or baking. When purchasing potatoes, they are classified as being either earlies, second earlies or maincrops. Early varieties are ready to harvest much sooner than maincrops, they are what we call 'new potatoes'. Maincrop varieties stay in the ground a lot longer, producing a better yield and potatoes are much larger.
The potatoes you buy for growing are called seed Potatoes or tubers. These potatoes are just like the ones you buy from the supermarket, but they're certified virus-free which is important for growing success.
Follow some very basic rules and growing potatoes is really very simple.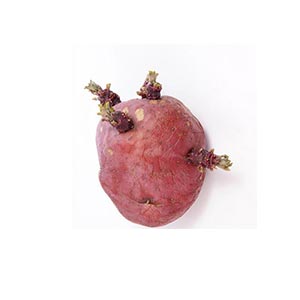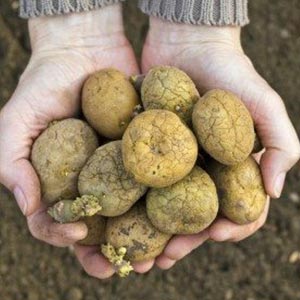 Chitting
In order to get them off to a good start it's important to 'chit' the seed potatoes first before planting;
All this means is allowing them to start sprouting shoots. Stand them rose end up in egg boxes or trays - that's the end with the most, small dents or shoots in the skin. (keep them frost-free)..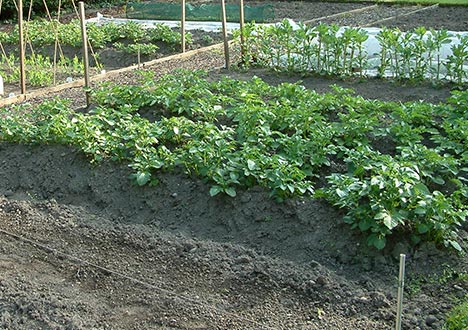 Planting
The potatoes are ready to plant when the shoots are about 3cm (1in) long. On early potatoes it is a good idea to rub off some of the weaker shoots, so you are left with no more than four per tuber.
The traditional and Get fit Way (for larger crops)
Dig the soil over then plant in a narrow trench, covering with loose soil with the addition of an organic fertiliser. When growth emerges above ground you start the process of earthing up, this is essentially drawing up soil into a ridge that will protect new emerging foliage. (It's only really necessary to do this once)
The Easy Way (Ideal for Earlies)
This popular method involves growing in large, deep containers, and this is a particularly good way of getting an early batch of new potatoes. Fill the bottom 15cm (6in) of the container with potting compost and plant the seed potato just below this. As the new stems start growing, keep adding compost until the container is full.
Remember potatoes need plenty of moisture during dry spells.

Our top recommended varieties are;
Salad potatoes: 'Charlotte', 'International Kidney'.
First Early potatoes: 'Maris Bard'
Second Early potatoes: 'Maris Peer', 'Kestrel'
Main Crop potatoes: 'King Edward', 'Maris Piper', 'Desiree'